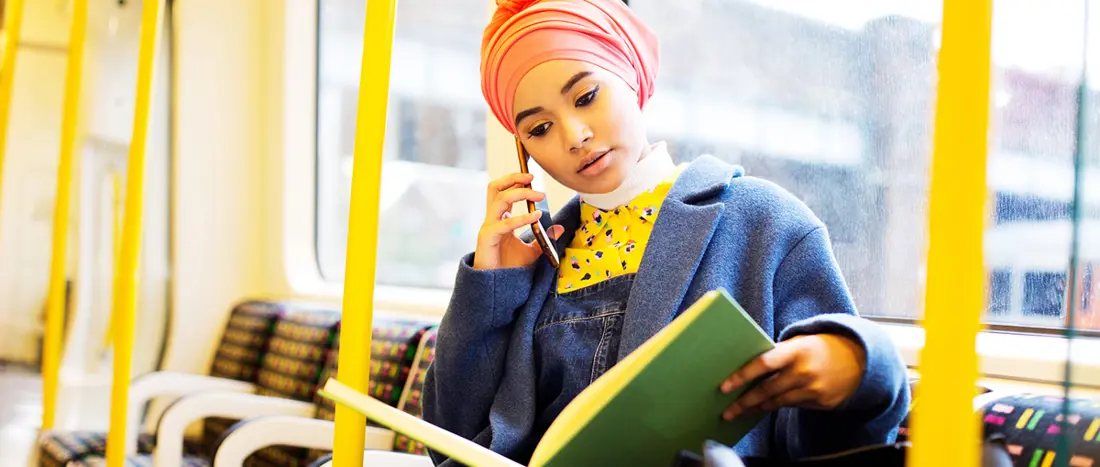 Are you primed for progress at work?@headingTag>
Greasy pole, ladder, snake pit, C-suite, top of the heap: it's been called many names over the years but one thing remains the same about the business of getting ahead at work – prepare to get stuck in. You need to be proactive, full of purpose and show you have the skills to succeed.
This can be doubly difficult, though, if you've been out of action for a while or have just joined a new employer where you're a 'newbie' back at square one. Thankfully, many of today's workplaces are set up to help you find support, network and learn the ropes. But it usually takes a lot more than this to rise through the ranks.
Here are seven ways to help kickstart your progress.
Build your 'personal brand'
It might sound like a concept more suited to marketing a flashy product.
But pushing your personal brand – the way you promote yourself, your skills, personality and experience – can help you ­raise your work profile and stand out against colleagues.
It's always been crucial to be recognised by fellow employees for who you are and what you do. However, social media's influence has shone an even brighter spotlight on the merits of being noticed - and it's more important than ever to stand out for the right reasons.
Be prepared to get busy. Start by offering to help out with any social activities, office away days, charity or community work.
Ask to be introduced to people you're interested in, and meet a different person in your company for coffee once a month (and express a genuine interest in something they're working on).
Appearances can count too. If senior staff at work have a smarter, more formal wardrobe, following suit can help others imagine you in a similar role.
And keep a keen eye on your online profile. Become adept at updating your LinkedIn profile and make sure all your personal info is up to date. If you're a regular social media user, be conscious about what you post and how this could appear to an employer, also check your privacy settings for what current or future employers can see.
Network naturally
'Hi, I'm Jane from sales, what do you do?'. The very idea of networking can bring many out in a cold sweat - yet it remains one of the most effective ways to get your name and face recognised.
If you find it toe-curlingly tricky, here's a different approach.
Instead of seeing it as a compulsory chore, treat every minute of your daily work routine as 'informal networking' – with practice it can become a second nature.
Strike up conversations in the lunch queue; chat with colleagues on a tea round; talk to those in different departments during work drinks; and email those whose work presentations you enjoyed to introduce yourself.
You never know who you'll get talking to or where the conversation could lead.
At more formal events, good preparation can help networking go to plan. Have an elevator pitch ready – twenty to thirty seconds on who you are and what you do – and be prepared to offer your email, LinkedIn handle or business card if you have one.
Before you dive in, be sure what you want to get out of it. Is it to speak to a specific person, get an introduction or simply find out more about an industry? Having a goal in mind will help you network much more effectively.
Learn to 'manage your boss'
It might sound topsy-turvy to those unaware of the concept, but managing your boss well can help you make real headway at work.
To start with, if they're friendly enough, simply get them on side. If you're proud of a piece of work, don't be shy - tell them why and explain its importance. This will help encourage them to push you forward for challenging tasks which give you the skills to develop.
Stuck in a bit of a rut? Ask for frank feedback on what's holding you back from working at the next level.
If your next step isn't clear, work with your boss on a development plan with concrete goals. If you're open with them, a good boss will look out for opportunities to help you progress – it can make them look good too.
Progress won't be so easy if you've got a genuinely difficult boss who isn't interested in you, though.
To resolve a situation beyond repair, try speaking to a trusted colleague or to HR.
Teach yourself new tricks
If a lack of skills is preventing you from making progress, it's time to train yourself up.
Find out if your company offers free in-house training or will pay for external courses. If so, put forward a well-researched case of how your new skills will benefit the business.
Need to make a compelling case to get the green light? Think about taking on extra responsibilities or look into signing up for workshops or internal online courses to show commitment.
Worksmart, a new service backed by the Trade Union Congress, can guide you towards possible courses in your chosen industry.
Be a team player
You may have worked in places where you dread going in every morning. By being someone who makes the office somewhere people want to be - rather than have to be - it can be a big boost for both the team and your career.
Get noticed for having the business's best interests at heart - for example, offer to help on a big project or take on that task everyone else has been avoiding.
If you're working on something that goes wrong, own up to responsibility and show how you're going to fix it. This shows initiative and also that you can be trusted.
Or if you prefer a more light-hearted approach, why not organise a team social or suggest a regular meeting where everyone can raise issues.
Find a mentor to give you a leg up
A mentor can teach you valuable new skills, boost your confidence, pass on experience and open doors you never even knew existed. Usually, they'll be well established in your company and know a large network of staff that you can tap into.
You may find a mentor scheme already exists at your workplace, but if not first ask your HR department if they can help.
An alternative is to find someone you admire at your company and ask if they would be happy to be a mentor – since it can work very well for both parties, this can often be an easy route forward. Still no luck? Type 'find a local mentor' into your favourite web browser to explore regional options. Always research any mentor thoroughly, look at reviews and check testimonials.
Once you've lined up a possible mentor, assess if they'll be a good fit for you.
Check if their experience matches those areas of business you're interested in, and look for personal chemistry – it can be a big boost to building a successful relationship.
And once you've lined up your mentoring sessions, be prepared for each one.
Try to set clear goals, continually evaluate your progress by asking for constructive feedback, and follow up on any actions, introductions or meetings to keep momentum going.
Prepare for promotion, prove your worth
It's no secret that it usually takes more than putting in the hours to get a promotion.
Keep your ears to the ground for an early hint of job vacancies, internal staff moves and the potential for opportunities from department reviews and company shake-ups.
Tell colleagues you're actively on the lookout. Be candid and speak up if not – if no one knows you're in the market for a new role, you're unlikely to be offered one.
Remember career moves aren't always vertical. A sideways step can be valuable if it helps you reach your ultimate goal. And if options for promotion within your company are slim, work out exactly what it is you want.
If it's extra responsibility you're after, you may be able to negotiate this in your current role.
Prove you can handle this and have plenty of evidence to back it up. For example, identify times you showed initiative or led a team and be prepared to put your case forward, with recent examples.
If it's a pay rise you're looking for, find out what people in similar roles or businesses earn so you can kick off the conversation with an informed number.
Try Glassdoor (you'll usually need to set up an account) for an idea of the salary range for your role and location.
Come to your pay review prepared. Make a one-pager listing your key achievements and be ready to justify – with examples - why you deserve a raise.
During the chat, traditional advice is to let your boss suggest a revised salary level, the so-called 'anchor' number. But if this turns out to be much lower than hoped, you have a higher mountain to climb so consider going first.
We are not responsible for, nor do we endorse in any way such third party websites or their content. If you decide to access any of the third party websites, you do so entirely at your own risk
Try one of these next@headingTag>