Adapting CVs and writing impressive cover letters@headingTag>
How successful tailoring can grab employers' attention@headingTag>
Download full lesson plan pack with all activities
Adapting-CVs-and -writing-impressive- cover-letters .pdf
PDF 694.6KB
In developing their first CV, your young person has already taken important steps towards making a great first impression to prospective employers. This activity will help take their CV and job application skills to the next level, encouraging them to think about how their skills and attributes can be demonstrated differently depending on the job they are looking for.
This activity will take approximately 30-40 minutes and you can either complete this with your young person using the steps below, or they can use the worksheets provided as an independent learning activity, with the option to go through their work with you once they finish.The activity will support your young person refine their own CV, considering how they might adapt it for different careers. They'll then go on to explore how to write a stand out cover letter, so that they are ready to start the job application process.
Your young person will need a CV to complete this activity, if they need an introduction to CVs and/or to create one, try the 'What makes a winning CV?' and 'Creating a stand out CV' activities before this one.
Step one: Adapting a CV for different audiences
Ask your young person if they had a career in mind when creating their CV. Explain that it's important to adapt their CV each time they apply for a job to match the specific job they are applying for. Certain information will be more, or less, important to highlight depending on this. For example, if applying for work at a graphic design company, they would need to prioritise showing examples of being creative, using relevant software, etc. over showing that they have completed the Duke of Edinburgh Award. However, if applying for a role where teamwork and leadership is key, the Duke of Edinburgh Award should probably take priority. It might just be a case of changing the order of information, but in some cases you might remove information altogether.
To explore this further, ask your young person to choose one of the following job adverts, or research/use a real advert they're already interested in: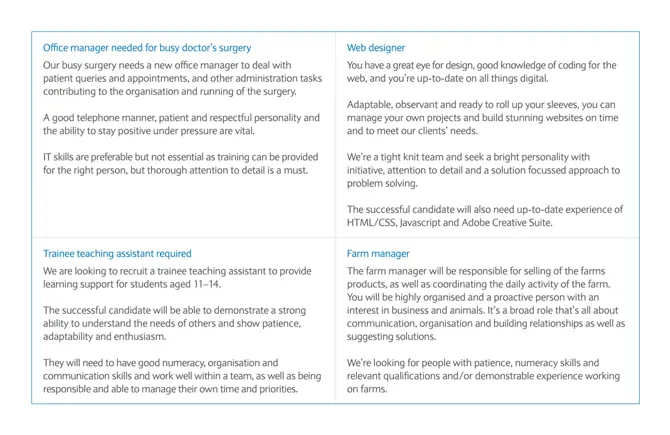 Ask them to highlight the important skills mentioned in the advert they have chosen. Briefly discuss their answers; highlight that core transferable skills like problem solving, adaptability and creativity can be applied in any industry, in almost any job role, and transferred between many jobs. Here are some of the key skills for each of the job roles above to start the conversation:
Office manager; Communication, organisation, thoroughness, positivity, digital skills
Teaching assistant: Patience, adaptability, enthusiasm, organisation, communication
Web designer: Thoroughness, observance, adaptability, problem solving, digital skills
Farm manager: Communication, proactivity, communication, organisation, patience
Now discuss why do they think this exercise is useful? (Suggested answer: reading adverts in this way is an important skill that can help them adapt their CV to meet the needs of the job/it helps to recognise the core transferable skills which employers are looking for).
Did your young person highlight any skills that they think they should include on their CV to make them better stand out candidates for their chose job? Encourage them to identify at least one and add it to their CV.
Step 2: Writing an impressive cover letter
A cover letter is a message sent alongside a CV when applying for a job. It's similar to a personal advert, highlighting the most important things an applicant wants a prospective employer to know about them and why they are a good match for the job. An impressive cover letter can help a candidate stand out and encourage employers to read their CV They can also help a young person emphasise their passion for the role and organisation.
Explain that your young person is now nearly ready to apply for their dream job, all that's left is a cover letter. Start by discussing everything they already know about cover letters using the below prompts:
What is a cover letter?
Why are cover letters important?
What do they think an effective cover letter would look like?
Outline that the top tip for any cover letter is keeping it brief and to the point, as well as ensuring it grabs the reader's attention. They should aim for roughly 200 to 250 words, broken into short paragraphs with the focus on key information, such as:
The job they're applying for
The documents they're enclosing (CV, application form, portfolio, test answers)
Why they want to do the job, and work for the organisation specifically
Why the employer should hire them: highlight the most relevant skills and experience and what separates them from other applicants
Achievements they are particularly proud of that demonstrate relevant or desirable skills and attributes
When they can start
To bring these points to life, ask your young person using the 'How to write a cracking cover letter' interactive tool, which lays out more tips and guidance on creating their letter.

Now ask your young person to create their own cover letter using everything they have learnt. You may want to then review their letter against the list above and discuss with them which parts they did well and where they could improve e.g. add more information, make it snappier or more impactful.