What makes a winning CV?@headingTag>
Explore with your young person ways to create a winning CV@headingTag>
Download full lesson plan pack with all activities
Explore-what-makes-a winning-CV.pdf
PDF 889.6KB
Supporting young people to feel confident about entering into the world of work can be key to their employment journey. A useful first step to this is understanding how to write an impactful CV, as well as the types of information your young person should include to demonstrate their skills, interests and experience.
As the world of work and education change, young people are finding new ways to develop strengths and attributes that will be highly-valued additions to a CV. This includes areas such as digital and online-communication skills, staying motivated and focused when completing tasks independently, and adapting to working environments which can be very different to what they're used to. These are key skills that employers may be looking out for when hiring someone new.
This activity helps young people recognise what goes into a stand out CV by getting them to play the role of the employer. It's fine if your young person already has a CV; they can use these activities as inspiration to improve it. Each activity should take 15-20 minutes, so around 35 minutes in total.
You can either complete this activity with your young person using the steps below, or they can use the worksheets provided for independent learning, with the option to go through their work with you once they finish. After completing the activity on this page, support your young person to create a stand out CV of their own and get fully job application ready by adapting their CV and writing an impressive cover letter. 
Step one: What makes a CV stand out?
Start by asking your young person to share ideas about what they think a CV is for. Do they know what it stands for, and what it means? Share this fact…
CV stands for curriculum vitae, which is Latin for 'course of life'.
Discuss how a CV is like an advertisement, but it 'sells' a person rather than a product or a brand. TV adverts have just a few seconds to grab our attention and persuade us, and, similarly for CVs, employers may take just moments to skim over a CV and make a decision about whether they want to interview a candidate.
Ask your young person the following questions:
How could they make a CV stand out like TV adverts can, but without using gimmicks? (E.g. putting it in a clear, engaging format, including a short, impactful opening statement)
What might put employers off a CV? (E.g. an inappropriate email address, a really long or wordy CV, an unclear format)
To bring some of these elements to life, use the Play the Boss interactive tool, which gets your young person working against the clock to choose the CVs that they think would be picked for the job, and those that wouldn't.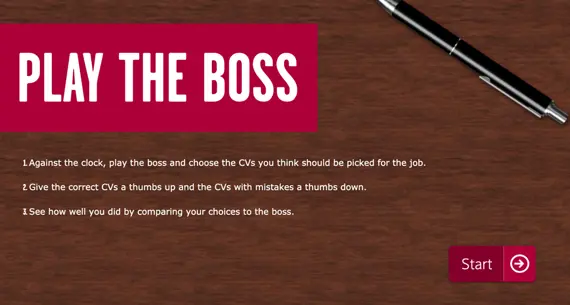 Once the 'start' button is clicked, they'll have 10 seconds to give each CV they see a thumbs up or thumbs down (as shown below).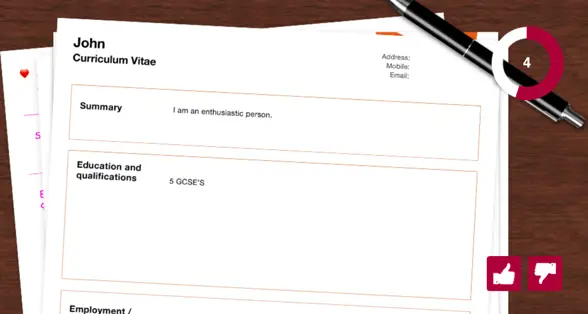 Sit with them as they go through the game, or come back to discuss it once they've finished. Ask your young person to consider the following questions and write down their reflections:
What did they find most challenging about it? (E.g. having to make important decisions in such a short space of time, not having enough time to read all the information)
What did your young person learn about the way an employer might review their CV? (E.g. that the first few lines and appearance needs to stand out, but also look professional)
What three things will they consider when writing or fine-tuning their CV? (E.g. making it clear and concise, ensuring it looks professional, including appropriate details)
You could also revisit the two questions your young person answered at the start, to see if there's anything else they would now add based on what they've learnt over the course of 'playing the boss'.
Ask your young person to read the article which gives 5 tips for writing a great application and highlight any aspects that they haven't previously considered.
Step two: What goes into a great CV?
Have a conversation with your young person around ideas of what information a CV should contain; ask them to jot thoughts or type them into the supporting worksheet.
Their list could include:
Name and contact details
Skills and personality traits that show they match the job description advertised
Their education and qualifications
Past jobs and work experience
Interests that show the 'whole person'
Referees – people who can back up what their CV says
Share the above list and highlight anything your young person might have missed. To further help them see how these different things work together, show them the sample CV included on the worksheet.
Discuss answers to the following questions:
Why are all these elements important to include? (E.g. they give vital information about how an employer can reach them, provide background information on relevant experiences and if they have the skills needed to do the job)
Which are the most important? (Highlight that they are all important but emphasise the importance of skills. Employers can think of these as equally important as qualifications, since students' skills are the tools used to get the job done)
Explain that the sample CV is in a chronological order. Ask your young person if they understand what this means (arranging information according to the time they occurred), before asking them what they think is the benefit of this order (e.g. it's a logical order for the employer to navigate, they can easily see their most recent employment/experience/achievements etc.). Suggest that they look at some of their answers in activity one, about what employers look for, as a hint.
Can your young person think of any other ways a CV might be ordered? Ask them to think about some of your earlier discussions around the most important pieces of information to include on a CV. Are there any other ways they could prioritise these elements?
Show them this second sample CV, which is in a skills-based, or functional order (arranging information according to the most important in regard to skills, experience and qualifications). Ask them to compare it against the chronological CV, highlighting how both present the same information but in different ways. Ask your young person to suggest some pros and cons of using each type. For example:
Chronological CVs organise information logically, making it quick and easy for employers to read about the candidate's most recent experiences. However, they could be a disadvantage if the candidate has recently had some larger gaps between jobs
A functional CV is good for someone who has changed jobs a lot or has some gaps in their experience, as it prioritises grouping and bringing their collective skillset to the fore. However it isn't the best option if the candidate has had lots of work experience, as they may not be able to show all of this clearly on their CV
Step three: Personal statements
Finish up by asking your young person to draft their own personal profile, also called a personal statement, that highlights their best skills and personal qualities and can be added to the beginning of a CV. Encourage them to think about whether they have skills that might transfer to the world of work. Are they good at staying positive when under pressure at school? Do they excel at leadership, or thrive when working in a team? Do they enjoy presenting to a group, or being creative? Are they taking part in any virtual learning activities which require adapting their communication and leadership skills e.g. creating a school project in a team remotely, supporting their peers with online mentoring etc.? Are they a good problem solver?
Use the example from the sample CVs to give your young person an idea of what could go into the statement.
Ask them to read their profile back to themselves, thinking about what an employer might think of it. Will it grab someone's attention and give them the right impression?
If they have time, ask your young person to explore the CV Tips interactive tool which takes them through a sample CV section by section and provides more detail on do's and don'ts.