Recognising risk and staying safe online@headingTag>
Download full lesson plan pack with all activities
Recognising risk
PDF 1.1MB
Understand how to keep financial information safe and recognise potential risks
This activity encourages young people to recognise financial risks and understand ways that they can protect their identity and stay safe online.
Use the steps below to complete this activity with your young person, or they can complete the activity using the student worksheets provided for independent learning, with the option to go through their work with you once they finish.
Step 1: How risky?
Discuss the following two scenarios together using the prompt questions provided, to help them consider the risks that might be associated with each one. Remind them that there are no right or wrong answers.
What are the general risks to consider?
Do any of these risks have financial implications?
What are the potential longer term consequences?
Rate the scenarios as either low, medium or high risk. If you select one as high risk, justify why
They can use Worksheet 1 to record their suggestions, and then check against the table below.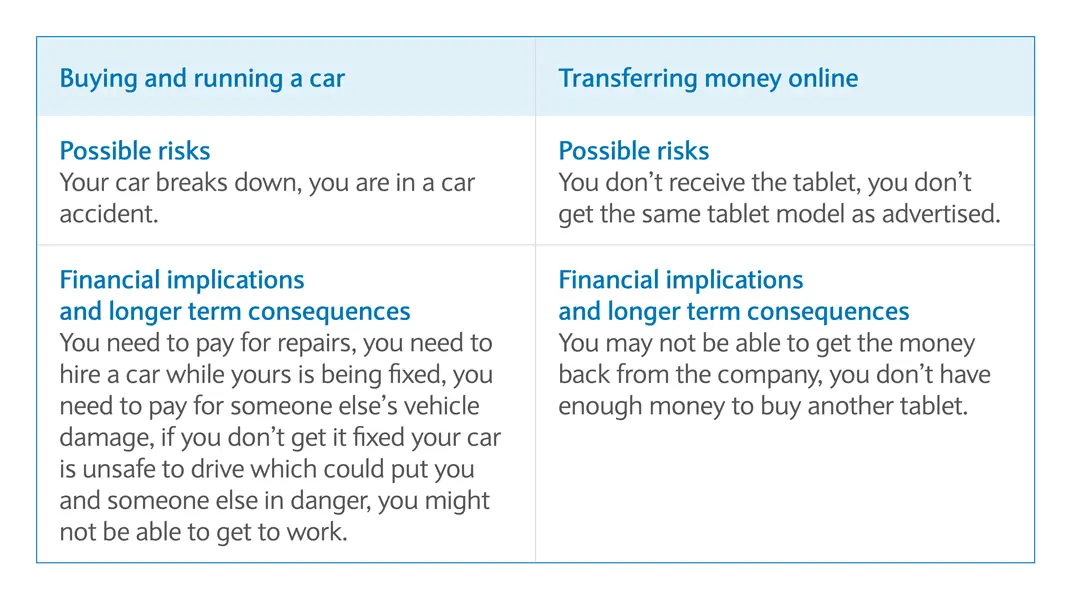 One of the scenarios above was about the risks of transferring money to someone you don't know. Explain that identity theft is a type of fraud in which personal details are stolen and used to open bank accounts or make purchases in that person's name. Discuss the statistics below.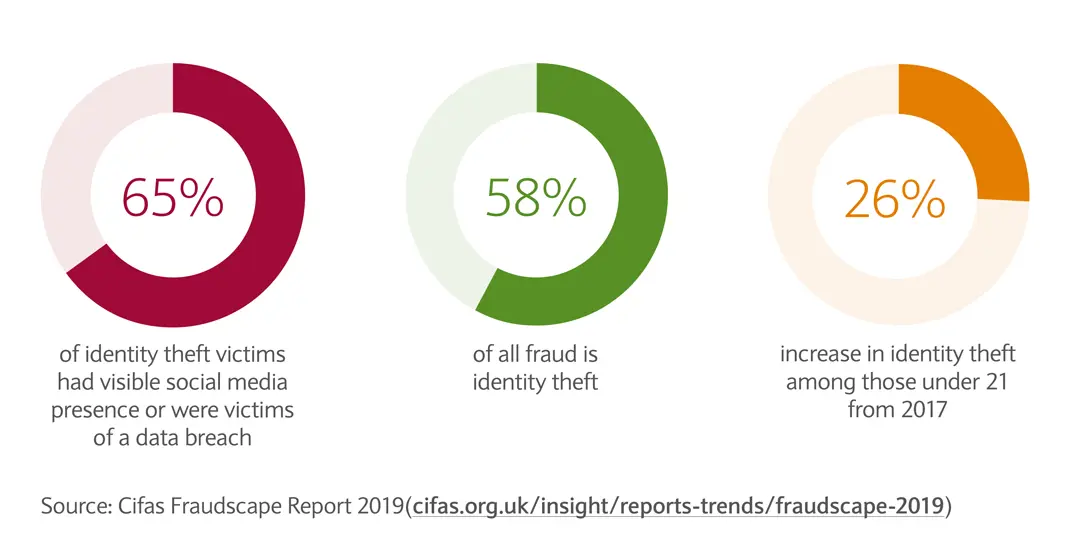 Step 2: Recognising fraud
Ask your young person to watch the Cifas film (cifas.org.uk/services/identity-protection) which exposes how much personal information is accessible to fraudsters via social media accounts, and complete Worksheet 2. Cifas is the UK's leading fraud prevention organisation.
They can also read more about protecting themselves from fraud with the '8 ways to stay safe online' article and short films (barclayslifeskills.com/staysafeonline).
Using the worksheet, your young person could record some actions they could take to make sure they are protecting their personal information online.
Remind your young person that they should check how much personal information is public on their social media accounts, e.g. birthday, hometown, pet names, holiday dates, job title. Fraudsters can use this information to steal a person's identity and apply for bank accounts or buy products in their name. They should also check that their passwords are strong, and that they aren't using the same one in multiple places.
Your young person can explore more on managing money and financial security on the LifeSkills website: https://barclayslifeskills.com/i-want-to-get-to-grips-with-money-and-my-payslip/college