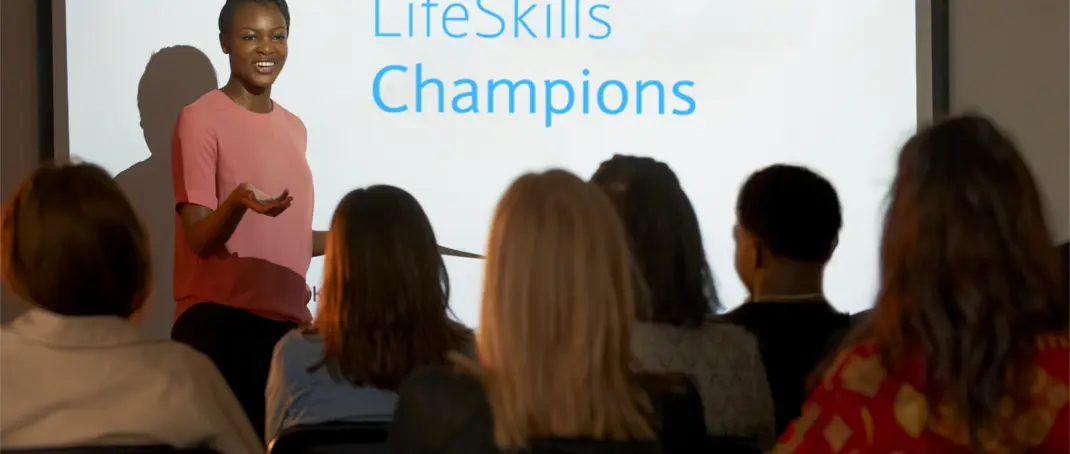 LifeSkills Champions – the next step in your LifeSkills experience@headingTag>
If you have a LifeSkills Champions access code or you are already enrolled on the programme, access LifeSkills Champions below.
Looking to stand out to employers or shine in university or college applications? In these situations, every advantage counts, including experience outside of education or work that demonstrates your skills. Becoming a LifeSkills Champion sends a message that you've got the skills to help you face challenges, act as a leader and motivate others.
"When you're teaching others, you break down what you've learnt into ways that others can understand also. It allows you to be creative, and think more deeply into different ideas." Ciara Brodie, 20, student, Liverpool
Through a series of interactive activities, you'll share skills you've learnt through LifeSkills and elsewhere with groups of young people, gaining confidence in public speaking and facilitating group discussions. You'll both develop skills and knowledge that will set you up for the future.
As a LifeSkills Champion, you'll pass on useful experience and knowledge while gaining more at the same time on everything from interview tips to networking. Once you complete three LifeSkills Champion activities you'll be awarded a digital Champions badge to showcase on LinkedIn, your CV or further education applications.
The badge will highlight your dedication to personal development showing how you've put employability skills into practice in real-life scenarios.
Ready to take the next step?
You'll need to ask a teacher or educator who's signed up for LifeSkills to invite you to the LifeSkills Champions programme. They'll give you an access code which will unlock the exclusive Champions area of the site and activities needed to achieve your badge. You'll be asked to accept some terms and conditions so we can keep you updated on your progress through your Champions journey.
Don't know a LifeSkills educator? Ask one to join, whether that's your teacher or youth group leader, the process is quick and easy. Just ask them to visit www.barclayslifeskills.com/championseducator