Encourage your young person to spin the wheel of strengths@headingTag>
Download full pack with all activities
Spin the Wheel of Strengths v2.pdf
PDF 1.4MB
Connect recognising and developing skills with making good career decisions
This activity is designed to help young people learn how their aspirations, skills, personality traits and interests can lead them to making rewarding career choices. It may also inspire discovery and investigation of jobs they have not previously considered.
Identifying the skills they already have could also help them strive for success in their education, as well as providing focus on which skills they could improve at, to help them with their next step.  
You can use the steps below to complete this activity with your young person, or they can complete the activity using the student worksheet provided for independent learning, with the option to go through their work with you once they finish.  
Step 1: Defining and developing aspirations
Supporting young people figure out their aims and ambitions, and developing aspirations, can be a great way to help them develop key skills and decide their path after school or college. Start this activity by asking them if they know what the term 'aspiration' means, and discussing the definition as follows.
Aspiration: An ambition or goal that we hope to achieve; these might be short term or long term, ambitious or easily achieved, detailed or rough
Discuss each of the aspiration examples below, and/or ask your young person to come up with a few of their own, and think of some smaller goals which could help a person achieve each one:
I want to study Media Studies at A-Level
Example goals: studying relevant GCSE subjects and working hard at school
I want to volunteer during my summer holidays
Example goals: developing a great CV and applying to several different organisations
I want to get good feedback at my first performance review of my apprenticeship 
Example goals: being punctual and building good relationships with managers
I want to set up a successful business with lots of employees
Example goals: researching how to start a business and developing leadership skills
I want to get a promotion during the first year in a job
Example goals: Practise being proactive by offering to help other colleagues with tasks
Highlight the difference between realistic aspirations (aims that you can achieve if you
have the right skills and attitude) and more ambitious aspirations (those which require certain experience but can be worked towards, and broken down into smaller goals).
Step 2: Spin the 'Wheel of strengths'
The 'Wheel of strengths' inspires young people to look at which future job roles might be a good match for their skills, interests and personality traits, as well as suggesting which skills they might need to achieve their career ambitions. It can also be used to showcase job roles they might not have heard of and help them understand what they need to do to get there. You could ask your young person to work through the tool independently, or with you.
The tool focuses on some job roles which are predicted to be in growing industries or sectors, like healthcare, engineering, logistics and tech. Remind your young person that they should keep in mind what kind of jobs will be available when they start their journey to work, along with the qualifications or training required.
Launch the 'Wheel of strengths' tool: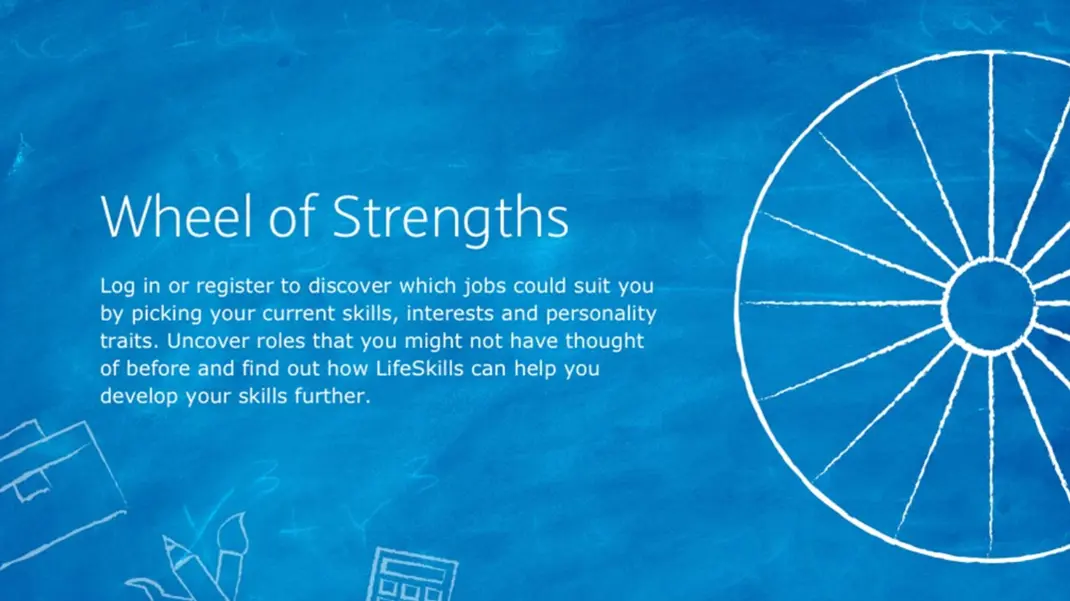 Young people will need to start by thinking about the skills they already have or have been developing recently and choose between two and seven to add to their wheel. They then select their interests and personality traits in the same way. They only need to select a minimum of six attributes to be able to spin the wheel, but encourage them to choose as many as they can. If any of the skills are unfamiliar, simply click the 'Unsure what some of these mean?' link to view definitions of them all.
Can they give examples of any of the skills, interests and traits they chose? They can fill these in on the table in their worksheet to help them before they spin the wheel, or afterwards.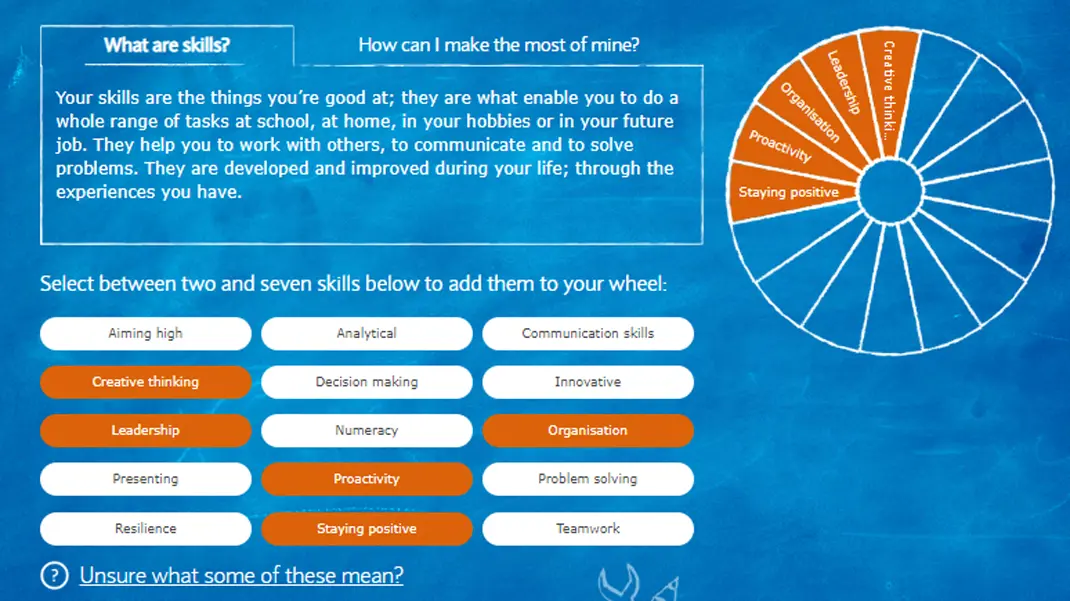 The tool will generate six suggested job roles based on their selection. For example: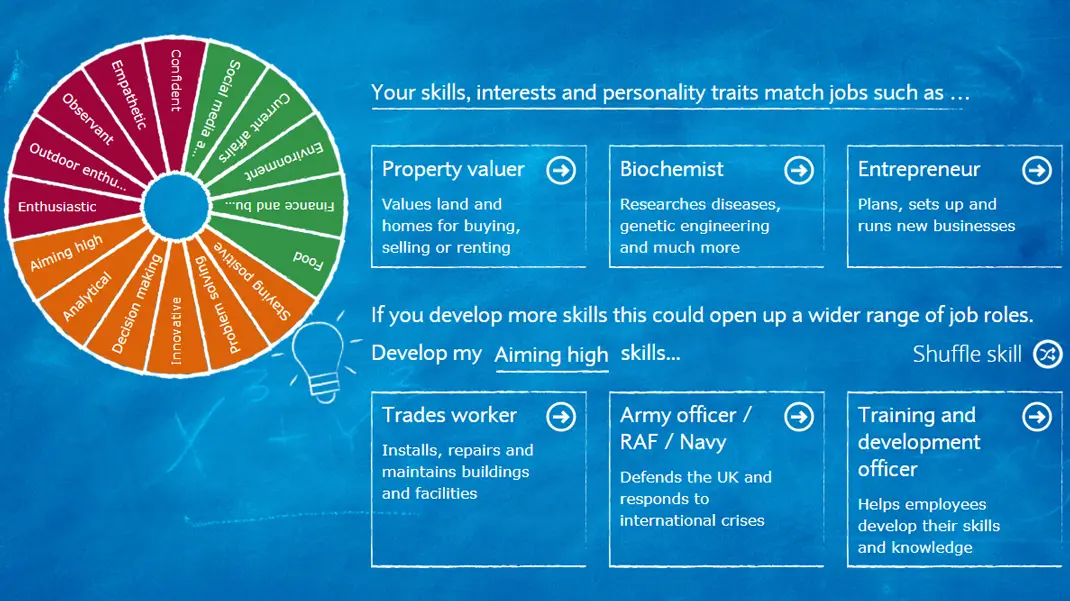 Next, ask your young person to use the 'shuffle skill' function to consider which of the skills listed they could improve. This will reveal jobs that might be a great match if these skills are developed.
You can look at other LifeSkills content that will help them do this by clicking the 'Develop my…skills' button in the bottom right of the tool, or simply entering the skill into the search bar on the LifeSkills website.
Remind your young person that it's ok if they're not completely happy with their results first go. They can check out the Advice map for more information on pathways available to them, and keep working on their skills. The Wheel of Strengths also doesn't include every single job that exists and they can always come back to re-do it in the future.
Step 3: Reflection
Using your young person's results, ask them following:
What skills do they need to start developing, how can they do that whilst in education?
Are there any jobs roles that surprised them? Why was it a surprise?
Think about the job role that appeals most to your young person ask:
Do they think is an ambitious or realistic aspiration?
What can they do to work towards this job as your goal?
What challenges might there be to you getting into this job or field? How might you overcome them?
They can explore more by selecting the suggested job on the results page if they haven't already, particularly if any of the roles are new to one or both of you. Your young person could also do further research about the training and qualifications needed for a role of their choice.
Skills action planning
Your young person can (independently, or with your help) fill in the 'My skills action plan' in the worksheet, to record any skills they'd like to work on and keep track of what they're doing to improve. This is a good time to remind them that there is always room for improvement when it comes to developing skills, even those they think they're already pretty good at.
The actions can include anything suggested by the tool, as well as any ideas they came up with during the reflection, and things they can do outside of LifeSkills.
Like this activity? You (or your young person) can tweet us @LifeSkills_Ed to give us your thoughts, or share with a friend by clicking on the share icon at the top of the page.