Privacy policy for Educators
1. Introduction
We are committed to protecting the information we hold about you. This privacy notice describes how, when and why we, at Lifeskills (part of Barclays Bank UK PLC), may use your information, as well as your rights relating to that information.
This privacy notice also explains how others will use your personal information (referred to as 'personal data' in this privacy notice). Please see section 6 'Who we will share your information with' for more information on this.
2. Information we hold about you
Information we hold about you will come from you directly when you use, register and access our content. That information will include the following:
Your personal details (for example, your name and date of birth,)
Your contact details (for example, your postal address, landline or mobile number, email address)
Any details that you include on your CV when using our CV building tool ('CV Builder'), including any social media details you choose to share or include
For educators, your job role, so that we can provide you with the most relevant information for you
Details of the resources that you have accessed, so that we can provide you with the most relevant material for you and improve our service
3. What we use your information for and the legal basis for doing so
We must have a legal basis (lawful reason) to process your personal data. In most cases, the legal basis will be one of the following:
To allow us to take actions that are necessary for us to provide you with LifeSkills tools and services
To protect our legitimate interests (for example, to understand how users use our services so we can develop new services and improve the services we currently provide)
We have your permission to use your information
To allow us to meet our legal or regulatory obligations (for example we may need to disclose information during proceedings for litigation) or as permitted by law.
The table below sets out what we use your personal data for and our legal basis for doing so. Where our legal basis is a legitimate interest (that is, where our interests do not outweigh our users' interests), those interests are also set out in the table.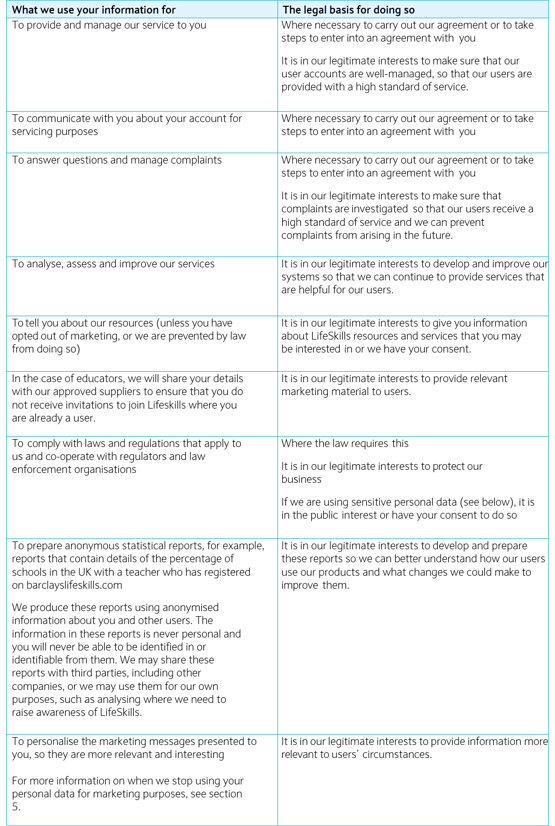 4. Sensitive personal data
We do not request sensitive personal data (such as political opinions, health information, membership of trade unions, criminal convictions) from you. However, if you choose to provide it, we will ensure that it is secure and that your data is processed in accordance with all relevant data protection legislation.
5. Our messages to you
We will send you messages by post, email and other digital methods about LifeSkills.
These messages may be:
to help you manage your account, such as resetting your password
messages we must send to meet our regulatory obligations, such as deleting your personal information after 15 months of inactivity
to keep you informed about resources and features which may be of interest to you. These are marketing You can ask us to stop or start sending you marketing messages at any time by confirming the email address of your account to us at barclayslifeskills@barclays.com. Unsubscribing will not affect any marketing preference that you may have expressed in relation to other communications from Barclays more generally.
to gather feedback on our service
for research purposes, if you have opted into being contacted for research. LifeSkills may contact you directly or we may contract one of our agents to do this on our behalf, on the understanding that they will keep the information confidential under a contractual obligation to maintain your privacy and security.
6. Who we will share your information with
We will keep your information confidential but will share it with third parties (who also have to keep it secure and confidential). This will include, for example, the third-party agents we use to send you email communications and welcome packs and our website providers who host all of the data you provide.
7. Keeping your information
We will keep your personal data for as long as you continue accessing barclayslifeskills.com
If you do not log into your account for a period of 12 months we will notify you that, unless you log in within the next three months, your account and personal data will be deleted.
We will only keep information that allows us to:
maintain user records for analysis or audit purposes
keep records of anyone who does not want to receive marketing from us
assess the effectiveness of marketing we may have sent
8. Your rights
You have certain rights relating to your personal data. These include the right to:
ask for a copy of the personal data we hold about you
ask us to give you (or a third party chosen by you) an electronic copy of the personal data you have given us
ask us to correct personal data we hold
restrict how we use your personal data
ask us to delete personal data; and
object to particular ways we are using your personal
Your ability to exercise these rights will depend on a number of factors, and in some instances we will not be able to agree to your request (for example, if we have a legitimate reason for not doing so or the right doesn't apply to the particular information we hold about you). If you would like more information on your rights, or want to exercise them, you can do so by contacting us by going to barclays.co.uk/important-information/control-your-data.
If any of your personal data changes or is incorrect, please contact us.
9. Cookies
We may use cookies and similar technologies on our websites and apps, and in our emails. Cookies are text files that gather small amounts of information, which your computer or mobile device stores when you visit a website or use an app. When you return to the website or app, or visit websites and apps that use the same cookies, they recognise these cookies and so your device.
We use cookies to do many different jobs, like letting you navigate between pages efficiently, remembering your preferences, and generally improving your online experience.
We also use cookies in some of our emails to help us understand how you interact with our emails, and to help us improve our future email communications. We also use similar technologies such as pixel tags and JavaScript for these purposes on social media.
Our terms and conditions and our cookie policy give you more information on cookies, how and where we use them, and how you can control them.
10. How to contact us
If you have any questions about our privacy notice, go to barclays.co.uk/control-your-data. If you would like more
information on your rights, or want to exercise them, please contact us through online banking or go to www.barclays.co.uk/important-information/control-your-data  . You can contact our Data Protection Officer by writing to:
The Data Protection Officer, Barclays Bank UK PLC, Leicester, LE87 2BB.
Or you can send an email to DPO@Barclays.com.
Barclays Bank UK PLC is the 'data controller' for your personal data. This means they are responsible for deciding how we can use your personal data.
We are committed to working with you to settle any complaint or concern about privacy. If you are not happy with how we have dealt with your complaint or concern, you can complain to the data protection authority of the United Kingdom using their website at https://ico.org.uk.
11. Changes to our privacy notice
You can ask us for a copy of this privacy notice using the contact details set out above. We may change or update this privacy notice from time to time.
If changes to this privacy notice will have a major effect on what we do with your personal data or on you personally, we will give you enough notice to allow you to exercise your rights (for example, to object to the processing).
Barclays Bank UK PLC, authorised by the Prudential Regulation Authority and regulated by the Financial Conduct Authority and the Prudential Regulation Authority (Financial Services registration number 759676).
Registered in England, registration number 9740322 Registered office: 1 Churchill Place, London E14 5HP.