Problem solving in practice@headingTag>
Download full lesson plan pack with all activities
Problem-solving-in-practice.pdf
PDF 1.5MB
Economic, societal and technological forces are changing the world of work, and skills like staying positive, problem solving, creativity and leadership are becoming increasingly valuable to employers. Your young person may already possess some of these core transferable skills but by building upon these and learning others, they can be better prepared for the future workplace.
The steps below can be carried out with your young person, or you can ask them to work through the worksheets as an independent activity around problem solving strategies. They are designed to equip young people with an adaptable approach to solving problems, large or small. Included is a short film and scenarios that encourage the development of practical problem solving skills which can be useful for learning, day to day life, and when in employment.
Step one: Problem solving practice
Start by explaining what we mean by problem solving - the ability to find a solution to a complex situation or challenge. To help your young person understand how this is a skill that can help them in the workplace, watch the following film.
To put your young person's problem solving skills into action, talk through the following challenge, and ask your young person to come up with a solution using the worksheet.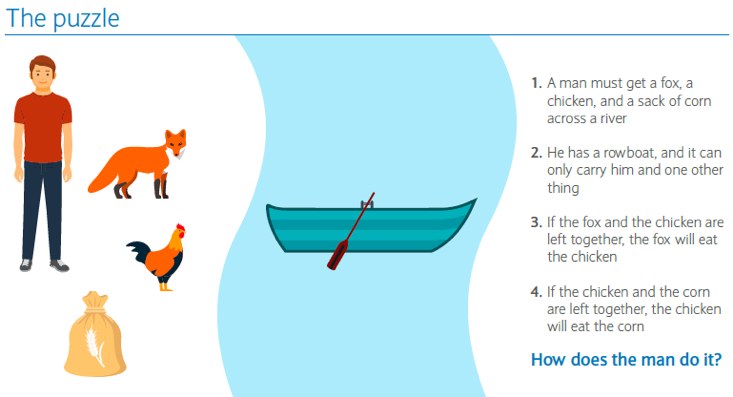 After 5 minutes, check their solution and compare it with the answer at the bottom of this page.
Use these reflection questions to discuss how they found the challenge. They could record responses on the worksheet.
How did they take to solving the problem? Discuss what helped most to get to the answer. Did they use paper, did they discuss the options with you, did they use trial and error?
Can your young person think of any times in their lives where they might need to apply problem solving skills e.g. at school, home, work, when volunteering?
Ask how successful they think they usually are at solving problems? And why is this?
Step two: Steps to solving a problem
Watch this problem solving animation, which presents six steps to developing an adaptable approach to solving problems of any size.
The six steps to problem solving in this approach are:
1. Identify the problem
2. Break it down into manageable chunks
3. Observe and look for patterns
4. Think freely and keep the big picture in mind
5. Apply different options
6. Evaluate what you have learnt and what you would you do differently
If you can, offer some examples of daily problems you might have faced in the workplace or in your day to day life and how you solved them. Help your young person to understand that we all need to solve problems – some big, some small – so it is a vital skill.
Knowing how to solve a problem is great start – but we might also need some other elements for a full problem solving toolkit.
These might include:
– Resources: time, money, connections, friends, work colleagues
– Knowledge: technical know-how, expert information, information about the location
– Skills: creativity, determination, innovation, negotiation, staying positive (resilience)

Ask your young person to explore these concepts using the 'Your problem solving toolkit' interactive tool.
Pick one of the example problems below and ask your young person to apply the six stages of problem solving to come up with some potential solutions, highlighting which resources, knowledge, and skills they would need to solve the problem. They can use the worksheet to record their ideas and talk you through them after they finish.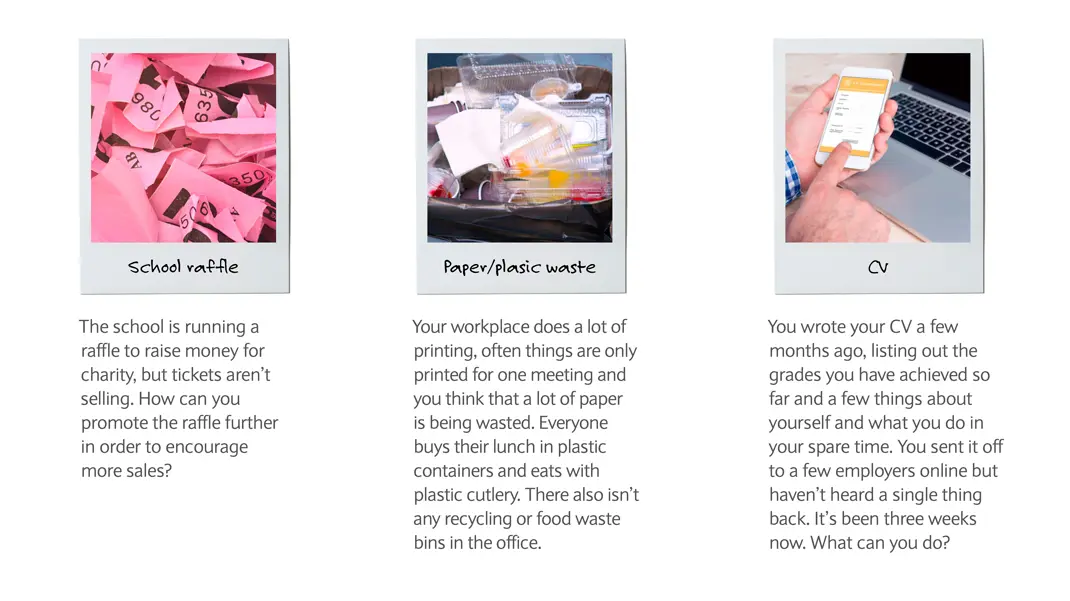 Discuss their approach to solving the problem once they're finished, providing constructive feedback if you can and discussing the pros and cons of their approach. You could now ask your young person to try and solve one or both of the other scenarios, having gone through the first one with you.
Answers:
The Puzzle:
The man and the chicken cross the river (fox and corn are safe together)
The man leaves the chicken and crosses back
The man takes the fox across the river
Since he cannot leave the fox and the chicken together, he takes the chicken with him and crosses back
As the chicken and the corn cannot be left together, he leaves the chicken and takes the corn across and leaves it with the fox
The man can then cross back, pick up the chicken, and cross the river one last time
Problem solving scenarios
Scenario 1:
Ask around school why people haven't bought tickets yet and see if you can address the concerns raised
Consider offering a deal that saves people money when they buy a higher number of tickets
Promote the raffle in a parent newsletter
Promote the raffle outside of your school, such as by placing a poster in your local community centre or library, or contacting a local radio station
Scenario 2:
Consider the root of the issue; is there a lack of bins in the area? Consider if you could write a letter to the local council, and/or local newspaper to complain if so
Create posters that aim to educate your local community about the issues being caused by the plastic pollution and place them in high profile places around the area
You will also need to have quite a few conversations with people, so make sure you're also prepared to talk about the problem and use persuasive language to get people to help
Scenario 3:
Contact the office manager or senior staff about why there's no recycling bin in the office
Share any recent articles about the importance of recycling with colleagues, or reports of offices going paperless to inspire positive change
Ask if your employer could provide re-useable cutlery to staff